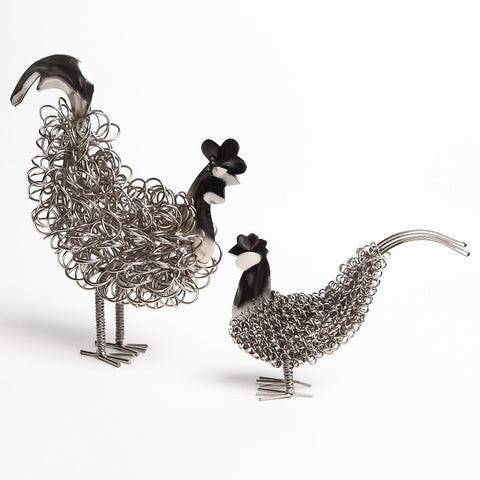 Wiggle Rooster and Chicken Nickel
Sorry, this product is sold out!
This delightful Daddy Wiggle rooster complete with chicken would make a wonderful gift, especially for that someone who has everything!  A nickel, silver coloured framework covered with twisted "wiggled" metal creates these delightful rustic creatures. Special price with 'family' discount.   

Rooster size:  Height : 25 cm (to tip of tail), width: 22 cm (beak to tip of tail) and 10 cm across the body.
Chicken size:  Height: 13 cm, width: 18 cm (nose to tail) and approx 5 cm across.
Please note these animals are quite rustic in appearance and may have some slight imperfections or light scratches from the manufacturing process, which are quite normal.