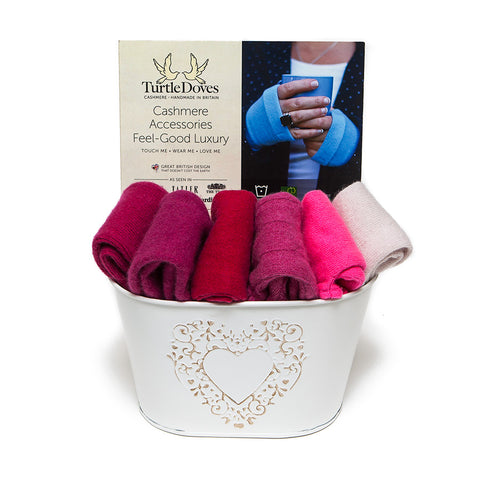 Turtle Doves not Just Gloves Pure Cashmere Wristwarmers - Reds and Pinks
Sorry, this product is sold out!
Beautifully soft pure cashmere wrist-warmers. If you feel the cold, these can be worn indoors or out, giving you the warmth where you need it most – around your wrist. We all know that to warm or cool ourselves down, we need to apply heat or cold to the wrist. These perfect little gloves do exactly that, and also have a thumb hole, so are wearable as fingerless gloves, either way still enabling you to do things you need to do.
Made from up-cycled cashmere – they might have been sweaters in a previous life – and now transformed into very useful wrist-warmers.
We have lots of colours in stock (constantly changing so image may vary), so please select from drop-down menu and we will do our best. We are happy to send an image prior to fulfilling your order, so you are sure what you will get.....just let us know in the NOTES if you wish us to do so!
Check out other colour selections.